From The Pastor's Desk
A Lenten Challenge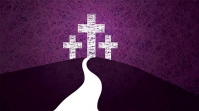 Once again we find ourselves in that season of the Christian calendar that leads to our remembrance and celebration of the central event of the Christian faith—Christ's death and resurrection. The importance of this event is signaled by the church's setting aside of a period of preparation, commonly called Lent. And what is "Lent?"
It is "a time when many Christians prepare for Easter by observing a period of fasting and repentance, moderation and spiritual discipline." The observance begins 40 weekdays prior to Easter (Sundays are not included in the count because they celebrate the resurrection.) and concludes on Maundy Thursday.
While this is not a biblically commanded observance, it certainly can be profitable to help us focus our hearts and minds on the wonderful love of God expressed in ultimate fashion on Calvary. We do well to encourage one another as a church family to make this period a time of preparation. The scriptures command us to have the mind of Christ and then it goes on to illustrate what that means by speaking of his laying aside the glories of heaven to enter our world as a servant.
Thomas Kempis wrote this verse's thought as a dialogue between God and his child.
"My child, you cannot possess perfect liberty unless you wholly renounce yourself (Matt 16:24; 19:21). Bound in fetters are all they who seek their own interest, and are lovers of themselves—covetous, inquisitive, wandering in a circle, seeking ever soft and delicate things, not the things of Jesus Christ but oftentimes devising and framing that which will not stand. For it shall perish altogether, whatever is not born of God. Keep this short and perfect word: "Let go all and you shall find all; leave desire and you shall find rest. Weigh this thoroughly in your mind and when you have fulfilled it you shall understand all things."
"O Lord, this is not the work of one day, nor is this children's sport. In this short word is included all the perfection of religious persons."
As part of that preparation, believers often engaged in some sort of personal sacrifice that enables them to give to others as a reminder of how Christ sacrificed himself for his followers. We want to encourage you to adopt this act as part of your preparation. What might you forego so that you can help others? Your morning coffee stop? Your daily paper? Sunday dinner out? Some other thing that you feel you cannot do without? Surrender it to the Lord and give whatever its cost might be as a gift to him in service of others.
Join us this Easter season as we reflect each Sunday on Jesus' journey to the cross for us!